WE ARE ON A MISSION TO GET THE WHOLE WORLD MOVING
Opportunities are currently available to run your own HUNGERBALL™ as an Associate.
Associate Benefits
HUNGERBALL™ is currently available to hire in selected locations around New Zealand and Australia.
Locations
We use the power of play to create positive change in our communities
Discover the game where people of all ages and abilities can belong
We believe that participation in physical activity shouldn't be defined by skill, and that performance doesn't determine enjoyment.
HUNGERBALL™ (Hia Pōro) is an award-winning concept developed in New Zealand that captures the energy, imagination and inclusive values inherent in street games. Within the six sides of the inflatable HUNGERBALL™ arena, all ages and abilities have the opportunity to participate in variations of the game – such as football, hockey, and other ball games – while embracing a healthy competitive spirit that encourages camaraderie, teamwork and communication.
HUNGERBALL™ is fast, fun and infinite, meaning that games are designed to keep all participants, at any level, engaged, involved and included.
Play HUNGERBALL™
HUNGERBALL™ CONNECTS, EMPOWERS AND EDUCATES THROUGH THE UNIVERSAL LANGUAGE OF SPORT AND EXPERIENTAL PLAY
We're creating a borderless community of participants, world-wide
Equalising the playing field for more active communities
Our Mission
To contribute positively towards the development of communities worldwide
Our Values
Wellbeing, inclusivity, diversity and enjoyment
Our Team
Passionate people committed to making an impact
Our Purpose
To get the whole world playing, moving and connecting
Our Players
Every person, both young and old, who steps inside a HUNGERBALL™ arena
Our Community
We provide a vehicle for those seeking to develop & grow communities worldwide
Grow the game with us
Become a HUNGERBALL™ Associate
We're looking for values-aligned associates who share our vision for shaping healthier communities - and who also want to create a revenue stream that supports their own goals for financial growth.
Run your own HUNGERBALL™ arena in your local area and play your part in connecting more people to this growing game. We provide all the training, support and resources you need to manage and market HUNGERBALL™.
We're currently taking applications for associates to join us, so if you think you have what it takes to connect your community to the benefits of HUNGERBALL™, we'd love to hear from you.
Apply to join us
Use of an Established Brand
Legal use of the HUNGERBALL™ name, logo and promotional materials with branding & marketing support, including website listing, social platforms and email templates.
Strength of a Community
Being part of and sharing resources with a growing global community including access to information useful for grant applications training programs developments and new multi-sport games creation.
Training & Documentation
Training and documentation for operating the arena to engage groups of different sizes and configurations (e.g. schools, clubs, holiday programmes, community festivals), including Health & Safety guidelines and equipment maintenance tips/support.
Bookings & Event Support
Booking tools and access to the HUNGERBALL™ competitions format & player/team registrations online platform.
Hire HUNGERBALL™ for your next event
Bring people together through the power of experiential play
From community events and holiday programmes to corporate challenges, clubs, schools and parties, HUNGERBALL™ is an exciting attraction to offer your attendees.
Whether it's to entertain, to build confidence, to break down barriers or to develop physical skills, HUNGERBALL™ has the power to connect people from all walks of life using the essence of free play and the energy of infinite street games.
HUNGERBALL™ is currently available to hire in selected locations throughout New Zealand and Australia, while arenas are also in action in the United Kingdom, USA and Canada (with new locations to be announced soon).
Find an arena near you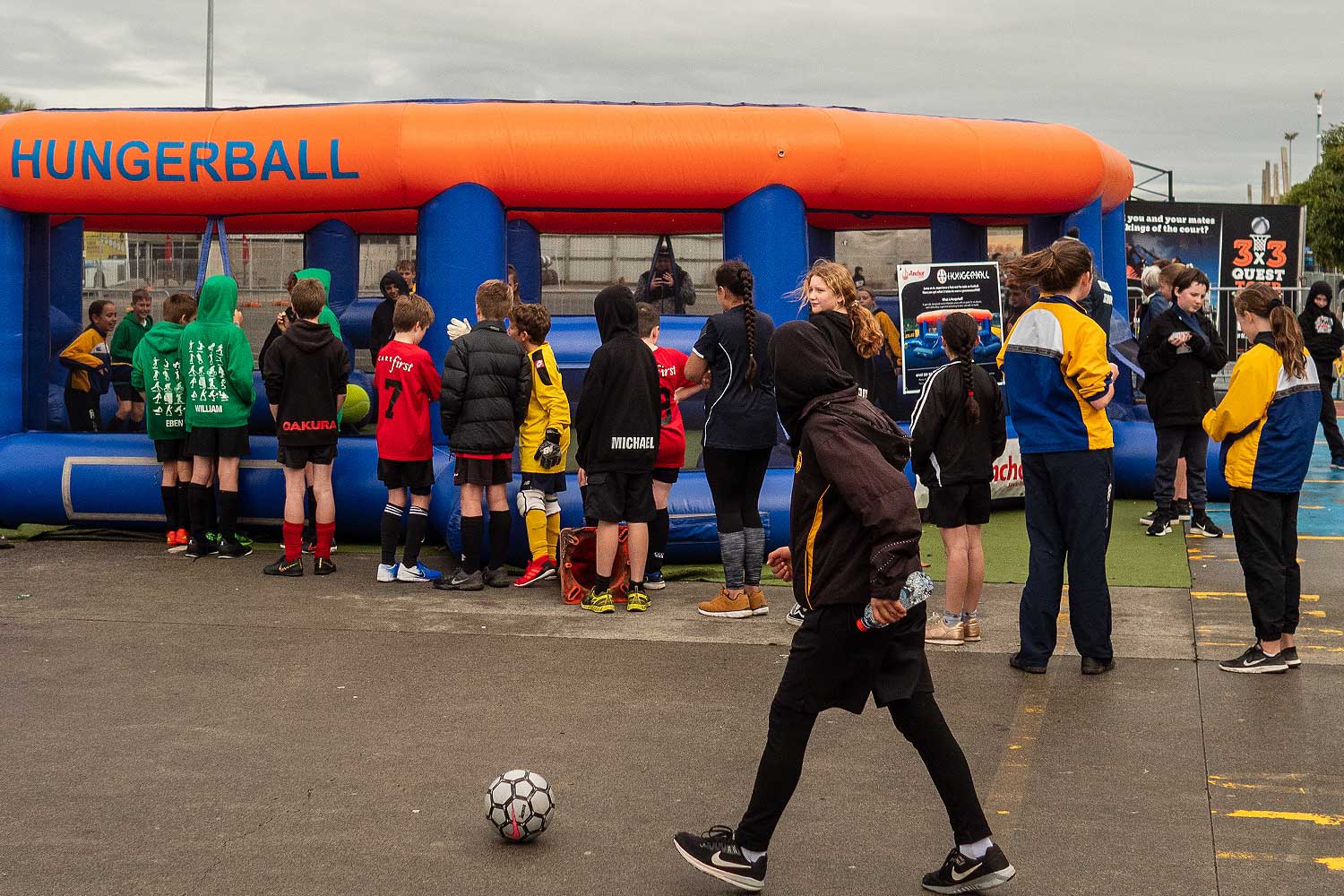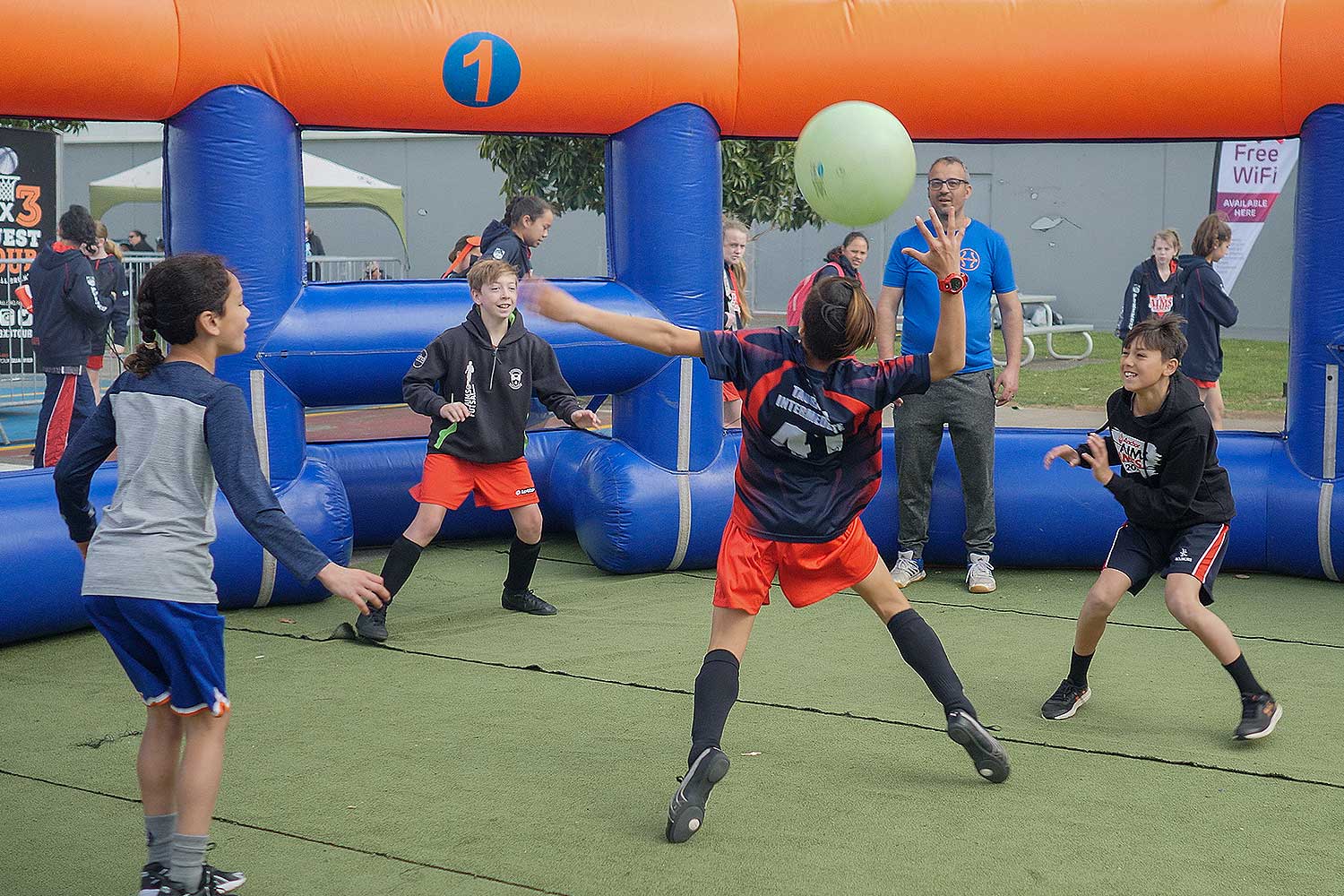 Play HUNGERBALL™
Join an event. Join a movement.
There's a place for everyone in the HUNGERBALL™ arena. Reflective of the inclusive nature of street games, the only requirement you need in order to play is a hunger to move your body!
HUNGERBALL™ is accessible for all ages, abilities and skill levels, with a range of game variations that encourage the development of physical skills, individual confidence and collective bonds. Whether you have a team of your own, or keen to kick-start new connections by joining a team in your community, HUNGERBALL™ is a fast, fun way to move your body, get fit and strengthen friendships through healthy competition.
Find an event near you
The Power of Play
The benefits of playing HUNGERBALL™ go beyond the physical
Inner growth through activity
HUNGERBALL™ focuses on interactions, fun and learning, all whilst maintaining the competitive feel.
Embracing the values of free play
HUNGERBALL™ stands for inclusivity, resilience and confidence.
Confidence through healthy competition
The competition encourages higher levels of achievement, builds discipline and develops physical fitness.
Finding community and connection
With a range of game types to choose from HUNGERBALL™ games encourage teamwork and help form bonds through play.
Our Story
Inspiring social impact through sport
Capturing the spirit of street games that shaped his own childhood, HUNGERBALL™ founder, Andu Iordache, envisioned a concept that could empower more people through experiential play.
But while the game is an easy way to connect individuals through physical activity, HUNGERBALL™'s impact goes beyond the multi-goal arena. Centred around celebrating inclusivity and diversity, HUNGERBALL™'s mission is to get the world moving, fostering wellbeing for people from all walks of life, including refugees, marginalised and underprivileged communities. We're driven by a dream to have Hungerball equipment set in every school, sports club and refugee centre around the world.
See our story
See what others have to say
Discover the impact for community groups, schools, parents and clubs
I see a lot of potential in HUNGERBALL™ for attracting kids to clubs and also for training and individual soccer tournaments. I am glad it has come out of New Zealand.
WOW! What a great day we had at our SKIDS programme when Andu and the HUNGERBALL™ arena showed up. We had ages 5-12 and they all loved it! So many different ways to play and engage a large group!
Played HUNGERBALL™ at a kids birthday party. Not only did the kids enjoy it, but the parents joined in and had a blast! Would I recommend it? Yes, yes I would. Great fun, well thought and cleverly designed.